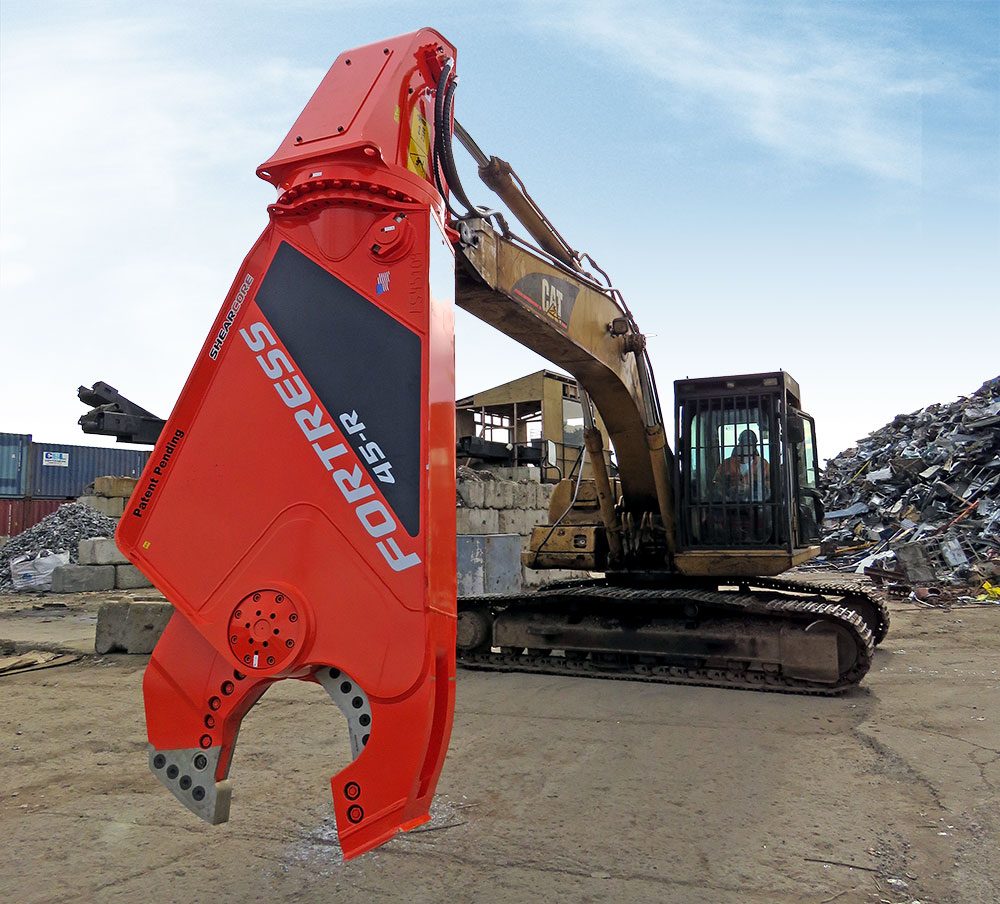 Following on from their recent acquisition of Murray Plant, Blue Group have announced an agreement with shear manufacturer, Shearcore, to become the exclusive dealer of the FORTRESS range of equipment across the UK.
The FORTRESS series of excavator mounted shears are sophisticated pieces of equipment that are structurally sound and are made up of a reduced number of parts when compared to other shears in the marketplace. This is made possible due to their innovative design.
The shears feature a patented two piece style piercing tip that covers the entire tip, and doubles the size of the protected area. They also incorporate a large pivot group that eliminates the need for an auto-guide, (puck) giving a longer life to the shear as well as increased cutting stability.
Furthermore, FORTRESS shears offer more power at the piercing tip than any other comparable shears in each weight class, as well as having a much larger pivot assembly to accommodate the increased power.
The deal follows the recent acquisition of Murray Plant, an attachment specialist company who have the exclusive UK distribution rights for the popular Rammer brand of attachments.
The Rammer series includes pulverisers, shears, grapples and hammers. The FORTRESS Line will be sold and supported via Murray Plant sales and service teams, meaning all sales and demonstration enquiries should be made to Fergal O'Neill on 07968 340382.
Furthermore, to support customers throughout the life of their FORTRESS shear, Blue will be working closely with Vinny Healey from Hydraulic Attachment Solutions for the supply of new blades. Vinny has many years of experience with shear blades and will prove invaluable in assisting customers going forward.
Commenting on the deal, Blue Group's C.E.O Adrian Murphy commented, 'We are delighted to add this class leading range of shears to our portfolio of equipment. The acquisition will give our customer base within the Demolition and Scrap Industries access to this highly regarded line of products".
Fortress shears are manufactured in the USA by Shearcore Ltd. The brand is sold in over XX countries throughout the world.