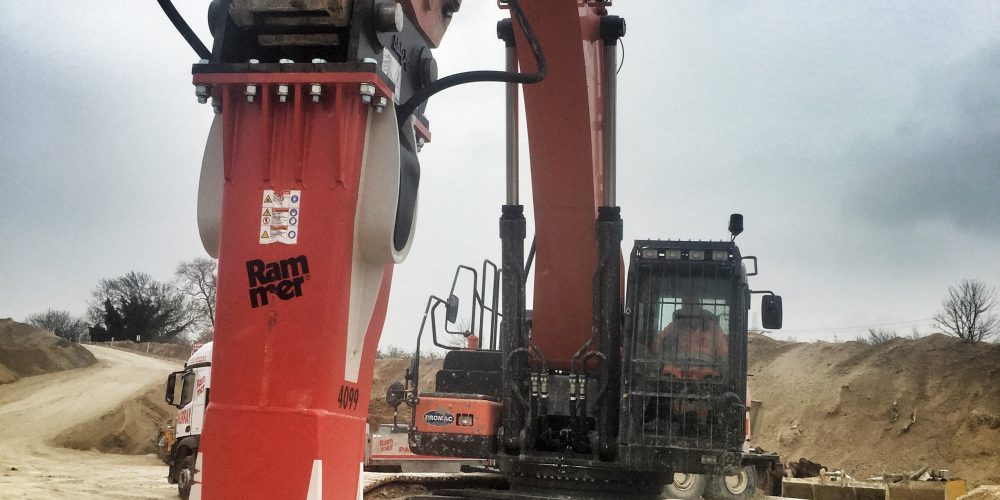 Creeton Quarry, part of the Johnson Quarry Group, have recently purchased a Rammer BR4099 and BR3288 to help process material at their Jurassic Limestone Quarry in Lincolnshire.  The quarry has three distinct beds: Creeton Banded, Creeton Hard White and Creeton Silverbed, which are utilised for a wide range of processing and masonry projects.
The Rammer BR4099 hydraulic hammer conducts the primary extraction using a hard rock chisel, breaking tough rock out from the quarry face.  Once the material is transported over to the crushing and screening area, the BR3288 deals with any oversize lumps in a secondary application, using a blunt tool to enable a smooth transition for the infeed to the crushing process.
Both the Rammer 4099 and 3288 hydraulic hammers incorporate a revolutionary new operating principle that combines stroke length, blow energy and Rammer's idle blow protector, allowing the hammer to be adjusted to match individual carriers and applications, which improves both hydraulic efficiency and safety.  The hammers also both include Ramdata II.   This technology monitors vital functions including working hours, operating method and shift duration, using this information to help predict failures before they occur and schedule service and maintenance.  A further benefit of Rammer hammers is 'stroke selector' which makes it easy to change between short-long stoke depending on the material.  Selecting stoke lengths allows operators to adjust the working method to suit different applications and improve productivity.
Dealing with up to 4,000 tons per day running through the crushing train, the two Rammer hydraulic hammers are working in Tandem, giving Creeton the reliability and efficiency required to maximise their productivity.  Commenting on the role of the hammers to the whole crushing and screening process, Managing Director Steve Johnson commented, "The Rammer hammers are playing a vital role within the quarry.  They allow the crusher loader to operate at maximum speed and for the crusher to work at full capacity without any issues.  Without the hammers, we simply wouldn't create as much saleable material."